Sending a Project NPS Survey
Every wondered how the customer perceives your project services? A great tool to quantify that is the Net Promoter Score (NPS). It measures customer experience and can help predict business growth.
We've built this functionality directly in to the project life cycle to automatically send out an NPS survey to the customer team. Once the customers fill out the survey, the system will perform calculations to provide key metrics in order to help gauge the overall customer relationship.
Let's explore how this works for a project.
Go to Projects from left pane and click on your project. For our example, we will be using The NPS Project.
To add the Project Customer Team that will receive the NPS survey, click on Team tab and click New Project Customer Team.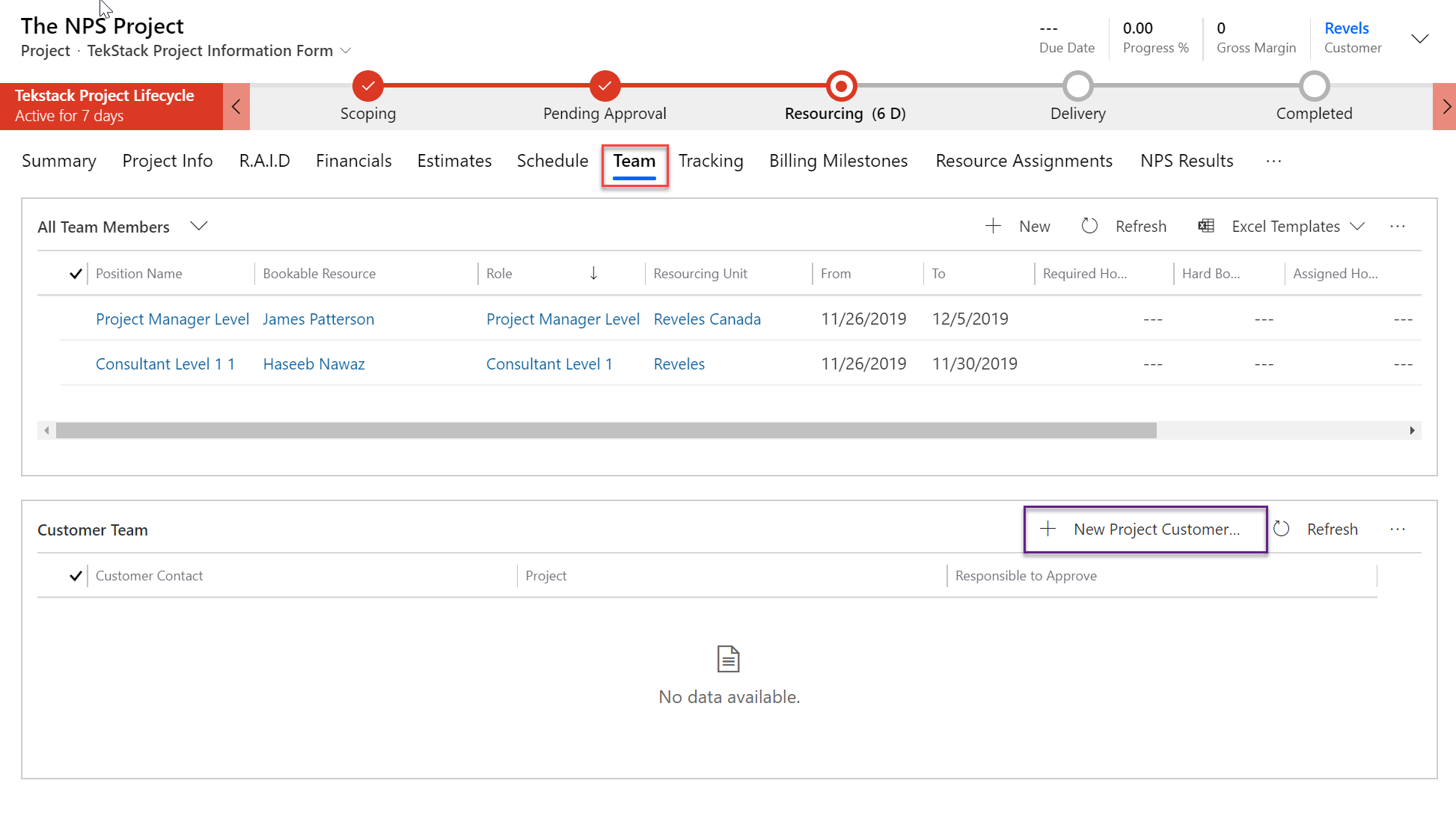 A form will appear on the right side of the window. Fill in the details and click Save and Close.
We will add 2 members to the customer team.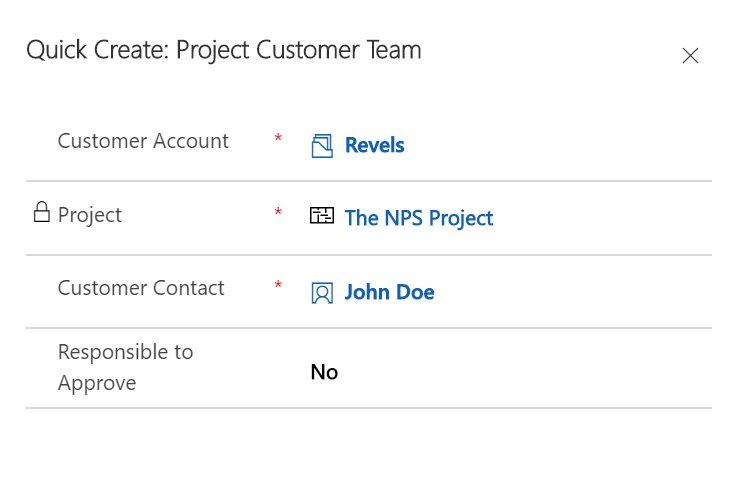 Once the customer team members have been added, head over to the Schedule tab. Here we have a task called NPS milestone (you can name this whatever you like). Select the task and click Edit to open a new popup window.
If you indicate this task to be an NPS milestone and mark it as complete, once you click save, an NPS survey will be automatically sent to the customer team you added earlier.
The customer team members will instantly receive an NPS survey to complete. Once they submit the survey with their responses, an NPS results record will be created for each survey response.
To see the responses head over the NPS Results tab.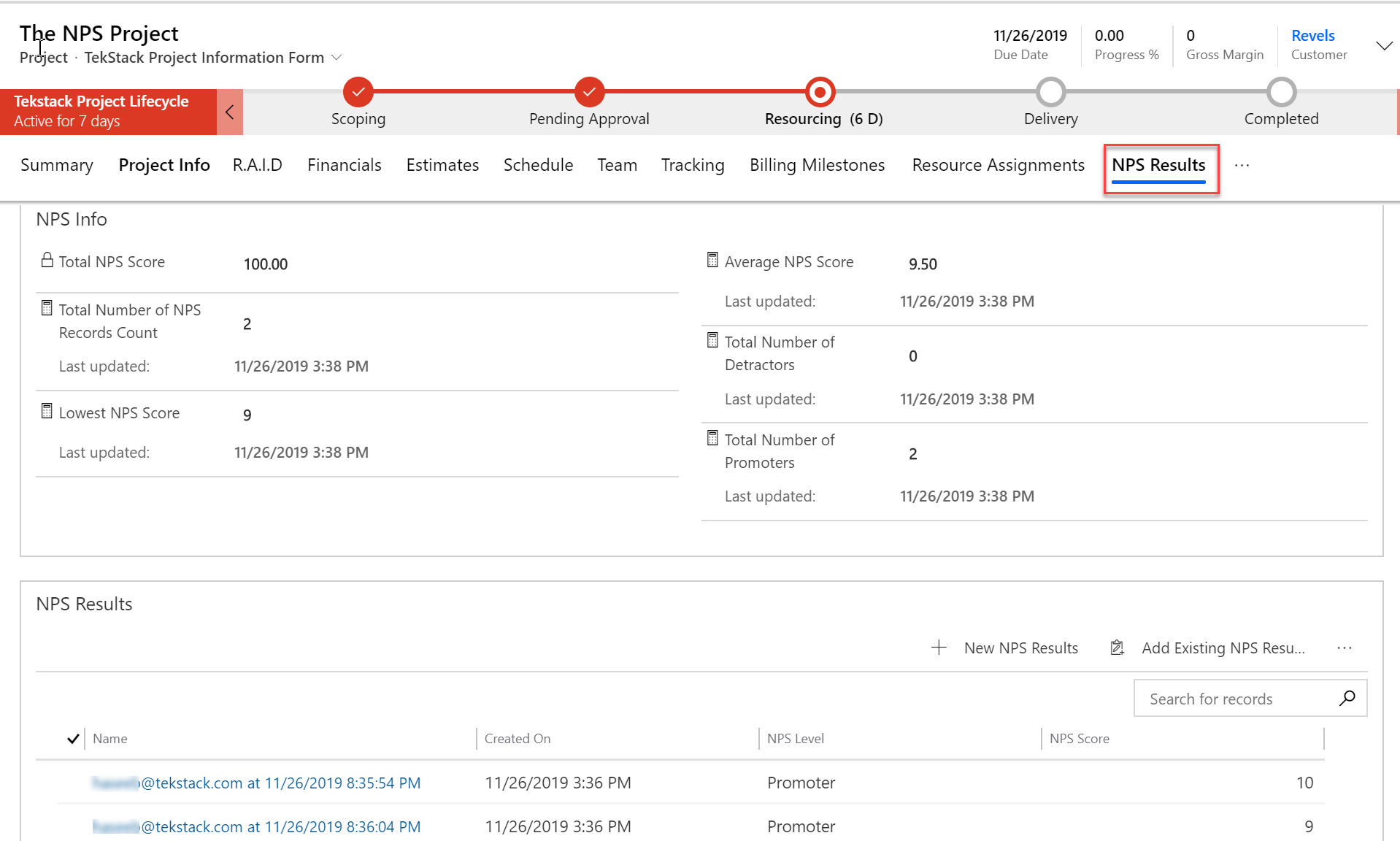 You may have to click on the little calculator icon beside each metric and click Recalculate for updated values. This calculation happens automatically as well every few hours.
A key metric that summarizes the overall customer perception is the Total NPS Score. It is using the scores from each individual survey response and plugging it in to a formula to calculate the score.
Another great thing about the NPS results is that they are also shown at the account level. So, if there are multiple projects under an account, the account NPS results will provide scores based on feedback gathered from all projects under that account.
To see the Account level NPS score, head over to the account and click on NPS Results tab.
This information is invaluable and can help your business provide great products and services.