Reviewing Project Revenue Entries 
Each Month, the Practice Manager (person responsible for services revenue) needs to review the Project Revenue and mark it Ready to Review, and Finalize 
Reviewing Project Revenue 
To access the Revenue Entries, head over to RevenueStack , select Revenue Entries from the Site Map. Change your view to This Month's Revenue view. 
Double Click on an entry to open the record.  The Revenue Entries form is broken down into three sections: General, Effort, and Cost & Revenue. 
The General tab contains basic information fields regarding the project, including the project name and the month of the revenue entry.  The status of the Revenue Entry appears in the Header of the form. 

The Effort tab will give details regarding the hours of effort planned and actual hours of effort preformed on the task during that revenue period.   

The Cost & Revenue tab will display financial information for the Revenue Entry.  The tab is broken down in to 4 sections: Gross Margin, Cost, Value, and Revenue.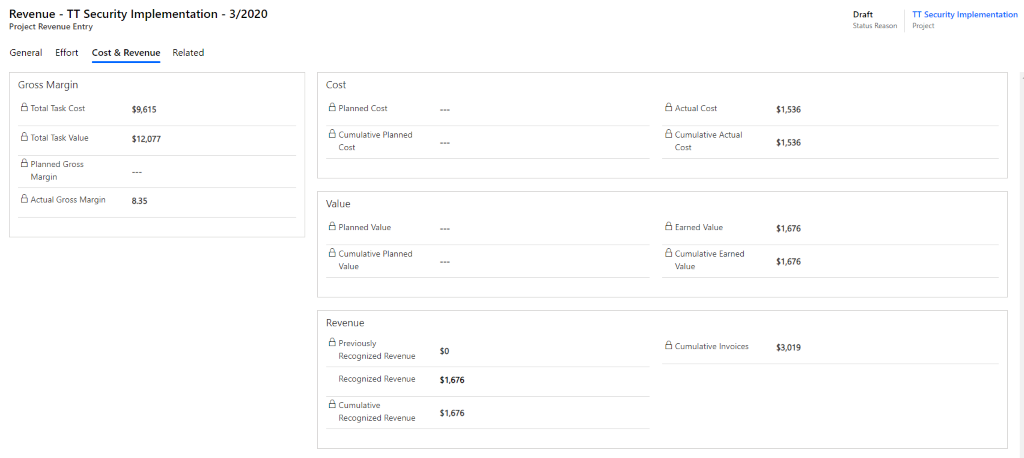 In the Revenue section, the Recognized Revenue is defaulted to Earned Value in the period.  You can change the amount in the Recognized Revenue field.  You can also compare the Cumulative Invoice value to compare the Cumulative Recognized Revenue with Cumulative Invoices.  If you want to create come conservatism in the revenue recognition and ensure that you've invoiced more than you are recognizing, you can enter a reduced amount. 

Mark it Ready for Review 
When you have reviewed the information you can then press the Ready for Review button to make it ready for review.  The button in located in the Ribbon.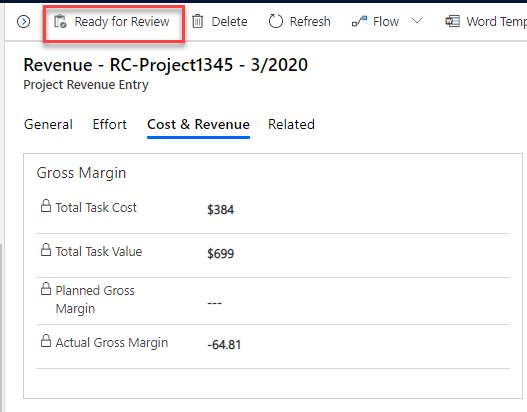 A dialogue box will come to confirm you would like to change the status to Ready for Review, click Change to proceed.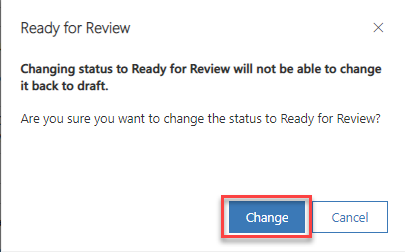 The Status will now be set to Ready for Review.  To finalize the Revenue Entry, click on the Finalize button. This process is in place in case the Reviewer and Approver are two different people. 

A dialogue box will appear asking to confirm the change to Final status.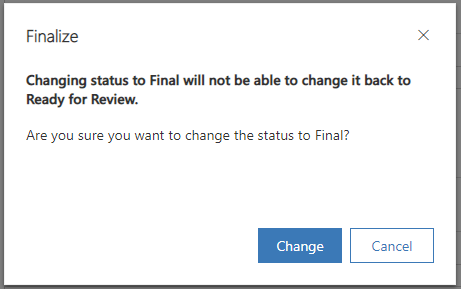 Click change and the Revenue Entry is now final.