Use the invitation feature on HelpStack to invite contacts to your Support Portal. The people you invite receive an email, with a link to your portal and an invitation code. This code can be used to gain special access configured by you. With this feature you have the ability to:
Send Single or Group Invitations.

Specify an expiry date if desired.

Specify a portal contact as the inviter if desired.

Automatically assign the invited contact(s) to an account upon invite redemption.

Automatically execute a workflow upon invite redemption.
 
*Note: The invitation is sent only to the primary email address of the contact. The invitation will not be sent to the secondary email or alternate email of the contact record.
 
1. To begin, Select the Contact to be invited.
2. On the Ribbon at the Top of the Page, Select Create Invitation.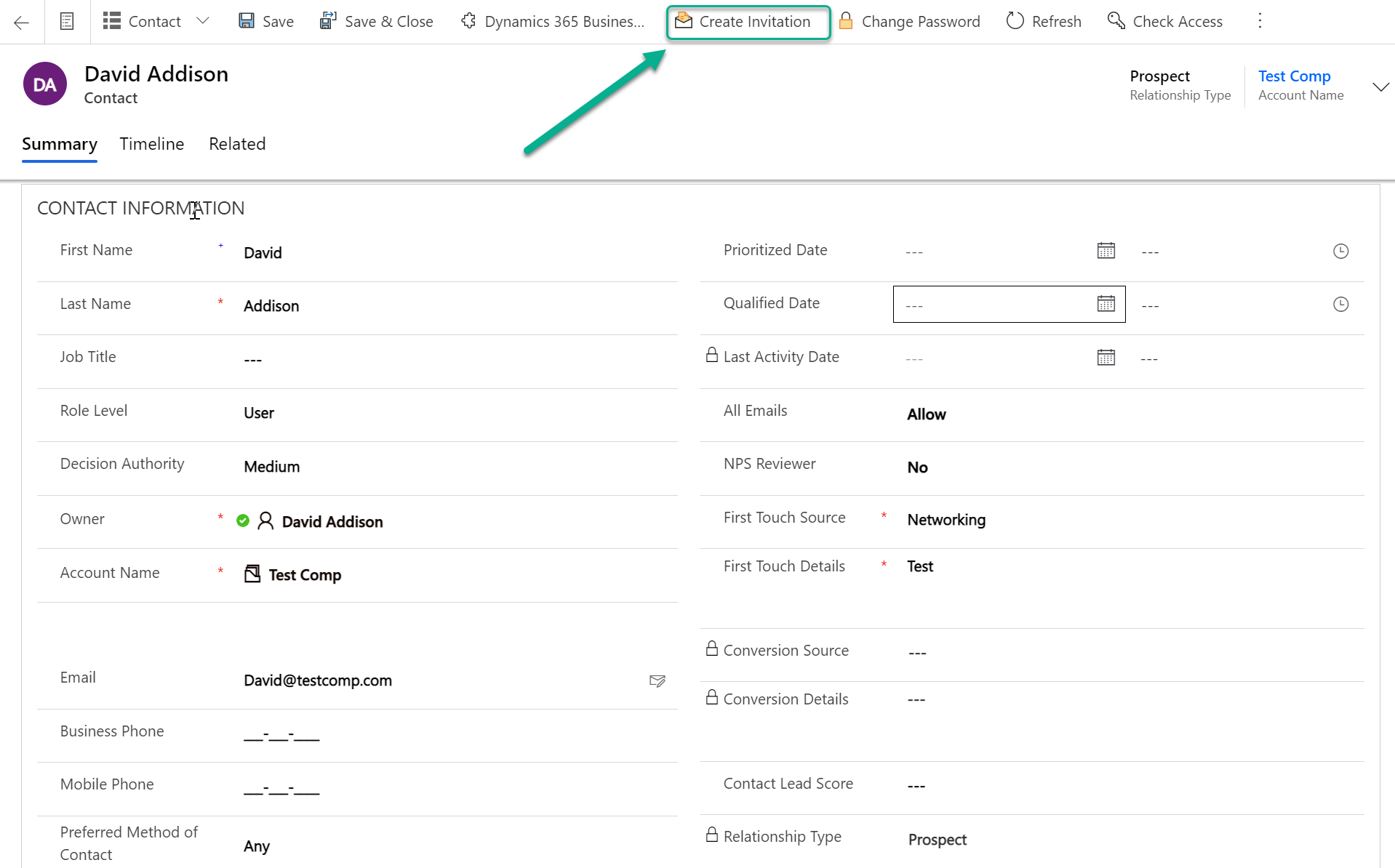 3. On the Invitation Page, enter the appropriate values in the fields below. The Table below explains the attributes of each specific field.
 
| Name | Description |
| --- | --- |
| Name | A descriptive name for helping recognize the invitation. |
| Type | Single or Group. Single will allow only one contact to be invited and only one redemption. Group allows multiple contacts to be invited and multiple redemptions. |
| Owner/ Sender | The user that will be the sender of the email when the invitation is sent.  |
| Invitation Code | A unique code for the invitation that only the invitee will know. You can create the Invitation Code by selecting Advanced > Invitation Code. If no Code is created, the System will Auto-Generate a code. |
| Expiry Date | The date that represents when the invitation will become invalid for redemption.  |
| Inviter | Can be used when a contact is the sender of the invitation. |
| Invited Contact | The contact(s) to be invited to a portal. |
| Assign to Account | An account record to be associated as the redeeming contact's parent customer when the invite is redeemed.  |
| Executing Workflow on Redeeming Contact | A workflow process to be executed when the invite is redeemed.  |
| Redeemed Contact | The contact(s) that have successfully redeemed the invitation. |


4.  Save your entry. The invitation is now ready to be sent.

5. Toggle the Ready to Send to Yes once finished, and an email with an activation code will be sent to the invited user(s) automatically.